Butter Dumpling Soup
Prep Time:
About 15 minutes total
Yield:
8 servings
---
Ingredients:

1/2 c Flour
1/2 stick Butter
2 Eggs
3/4 tsp Salt
1/8 tsp Nutmeg

Process:

Beat eggs with fork.


Add flour and stir till slightly blended.


Add soft butter. Mix well.


Add salt and nutmeg. Mix.
Batter will be gooey.


Bring clear chicken soup stock to boil.
Already seasoned soup stock.


To form dumplings:
Using two teaspoons, scoop up some batter with one teaspoon and use the other teaspoon to scrape it off into the soup stock.



Bring to a boil, then turn down the heat.
Dumplings are ready when they float up to the top.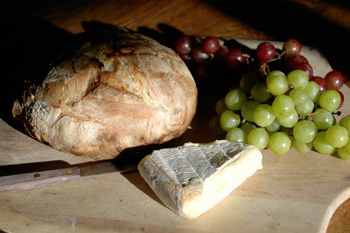 Butter Dumpling Soup
These dumplings are light and airy. An elegant addition to a tasty chicken broth. This soup was a beloved standard at Gretl's Restaurant on Aspen Mountain.


---
TIPS:
Too much flour will make the dumplings heavy and hard.


Hold teaspoons close to surface of boiling soup when making dumplings so they don't fall in and splash you.
This is similar to the method you use to drop chocolate chips onto a cookie sheet.


Serve 1 to 3 dumplings per bowl. Sprinke with a few chives (real chives, not green onions) for color and flavor.

---
RELATED RECIPES:

You'll be absolutely amazed!