Spitzbuben

Prep Time:
15 minutes

Bake Time:
350° 10 min.
Yield:
24 cookies
---
Ingredients:

2 1/2 sticks butter


1 c sugar


2 eggs


4 c flour


1 c ground almonds


1 tsp vanilla


granulated suger


strawberry or raspberry preserves



Process:

Mix together all ingredients.
Knead dough.


Roll out to 1/4 inch thickness


Cut stars and scalloped circles for shapes.
Dough is too crumbly for delicate shapes.


Cut and remove a hole in the center of half the cookies with an apple corer.


Bake on greased cookie sheet
at 350° for 10 min.
Do not brown.
Cookies will be alightly flexible when they come out of the oven, but not doughey.


Spread a thin layer of jam on the solid cookies.
Cover with cookies with holes (sandwich-style).


Dip tops of cookies in a bowl of granulated sugar.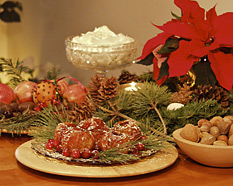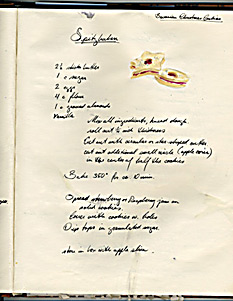 Illustration: Anton's hand-written cookbook.

Christmas Cookies
Delicious almond flour dough, covered with sugar and filled with jam.


---
TIPS:
Dip cookies in granulated sugar while they are still warm.


Let cookies cool before placing in cookie tin.
Separate cookie layers with wax paper in cookie tin.
Place a fresh apple wedge in the tin. This will soften the cookies and give them a unique flavor that you can't get any other way.


Serve with hot spiced wine or cider.


---
Related videos: