Black & Whites

Prep Time:
15 minutes

Bake Time:
350° 10-12 min.
Yield:
36 cookies
---
Ingredients:

2 1/2 c flour


1/2 c sugar


1 egg


2 sticks butter


1 tsp baking powder


1 tsp vanilla

---

1/2 Tbs dark cocoa powder


1 Tbs sugar


1 Tbs milk

---

1 egg white (to "glue" dough layers together)


1 Tbs water



Process:

Beat together the butter and sugar.


Add the remaining ingredients and mix.


Cut dough in half.
Half is for the light dough, Half is for the dark dough.


Mix together 1 Tbs each: cocoa, sugar and milk
Add to one of the dough halves and knead together well.


For Snail pattern:
Roll out equal portions of dark dough and light dough, 1/4" thick.
Brush one layer with eggwhite/water mixture (to make doughs stick together) and place the other colored layer on top.


Roll the 2 dough layers into a cylinder,
wrap with plastic wrap and refrigerate for 20 min.


Unwrap the dough and slice 1/4 inch-thick cookies off the end of cylinder.
Place on greased baking sheet 1 inch apart.


Bake at 350° for 10-12 min.
Do not brown.
Cookies will be soft but not doughey when they come out.
They will harden as they cool.


For Checkerboard pattern:
Roll out equal portions of dark dough and light dough, 1/2" thick.
Cut 1/2" wide strips.
Alternate dark-light-dark strips.
Use egg and water mixture to make strips stick together.
Repeat until you have a square cyinder of dough.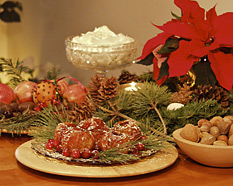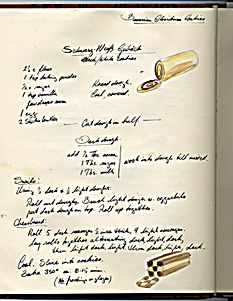 Illustration: Anton's hand-written cookbook.

Christmas Cookies
Delicious and beautiful patterned cookies.


---
TIPS:
To cut strips of dough cleanly, use a pizza wheel for cutting. Use a ruler or the edge of a cookie sheet to guide a straight cut.


If you don't use the eggwhite/water mixture to glue layers together, baked cookies may tend to break apart between color layers.


Let cookies cool before placing in cookie tin.
Separate cookie layers with wax paper in cookie tin.
Place a fresh apple wedge in the tin. This will soften the cookies and give them a unique flavor that you can't get any other way.


Serve with hot milk or cocoa.


---
Related videos: