Lebkuchen
2 recipe variations below:

Prep Time:
15 minutes
Bake Time:
see 2 recipes below
Yield:
24 cookies
---
Honey Lebkuchen
Ingredients:

1/2 c honey


1/2 c molasses


3/4 c brown sugar


1 egg


1 tsp lemon zest (finely grated)


1 Tbs fresh lemon juice


2 3/4 c unbleached flour


1 tsp. each of:
cinnamon, ground cloves, ground allspice, ground nutmeg


1/2 tsp baking soda


1/3 c cut up citron (dried holiday fruit)


1/3 c freshly grated hazelnuts (filberts)



Process:

Mix honey and molasses in large saucepan.
Heat to boiling. Cool Thoroughly.


Stir in sugar, egg, lemon juice and lemon zest.


Mix in remaining ingredients.
Cover and chill overnight.


Pre-heat oven to 400°


Roll out a small amount of dough at a time, 1/4 inch thick.
Keep remaining dough cool.


Cut dough into 2"X3" rectangles.
Place 1" apart on greased baking sheet.


Bake 10-12 minutes (or until no imprint remains when lightly touched with finger.)



Immediately remove from baking sheet.
Brush icing* lightly over warm cookies.
Sprinkle lightly with colored sugar.
Cool.


Store in airtight container with a slice of apple.
Best when at least 1 week old.


*Icing recipe at bottom of page.

---

Elisen Lebkuchen
Ingredients:

2 eggs


1 c light brown sugar


1 tsp vanilla


1/2 tsp ground cloves


1 tsp cinnamon


1 Tbs rum or rum extract


1 tsp fresh lemon juice


1 c citronat or orangeat, finely chopped


1 c freshly ground hazelnuts (filberts)


1 tsp baking powder



Process:

Separate eggs.
Beat the egg whites until they form smooth peaks.


In a separate bowl, mix all other ingredients.


Gently fold mixed ingredients into egg whites.


Drop heaping Tablespoons on greased wax paper on cookie sheet, 1 inch apart.


Bake 325° for 30 minutes.


Remove from cookie sheet immediately when out of oven.


Cool slightly, then brush on thin coat of icing.


*Icing recipe at bottom of page.

---

Icing Recipe
Ingredients:

1 c powdered sugar

1 tsp cold water


Process:

Add water to powdered sugar and stir until smooth.
Icing should be somewhat thin, (not thick like cake icing.)
Be patient and stir well before adding any more water as overly-thin icing will not set up.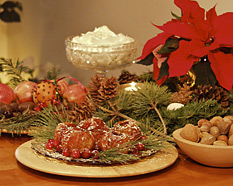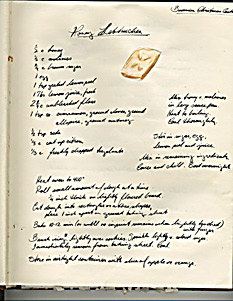 Illustration: Anton's hand-written cookbook.

Christmas Cookies
These are real old-world cookies with a vague similarity to gingerbread cookies in texture but with a distinctive flavor all their own.

They are a little more time-intensive than most cookies, but well worth the little bit of extra effort.
---
TIPS:
Decorate with a cross of this almond slices.


Cookies should be aged at least a week in a cookie tin with a slice of apple.


Let cookies cool before placing in cookie tin.
Separate cookie layers with wax paper in cookie tin.
Place a fresh apple wedge in the tin. This will soften the cookies and give them a unique flavor that you can't get any other way.


Serve with hot spiced wine or cider.


---
Related videos: