Gingerbread Men

Prep Time:
20 minutes

Bake Time:
375° 10-12 min.
Yield:
12 cookies
---
Ingredients:

1/2 c shortening


1/2 c sugar


1/2 c dark molasses


1/2 c water


2 1/2 c unbleached flour


1/2 tsp salt


1/2 tsp baking soda


3/4 tsp ground ginger


1/4 tsp ground nutmeg


1/8 tsp ground allspice

---

1 c powdered sugar (for piping decoration)


1 tsp water



Process:

Mix together the sugar and shortening until smooth.


Add in molasses, water, flour, salt, soda and spices.
Mix well.


Cover and chill 2-3 hours.
Dough handles better when cold.


Roll dough out 1/4" thick onto a lightly floured board.
Cut out shpaes with cookie cutters.


Place on un-greased baking sheet.
Bake 375° 10-12 min.


Immediately remove from baking sheet.
Cookies will be flexible but not doughey while they are still hot.


Cool before decorating.

---

Make icing for piping on decorations with powdered sugar and water.
Stir well before adding more water. Icing should be thick enough to hold its form when squeezed out of the thin round nozzle of a piping bag.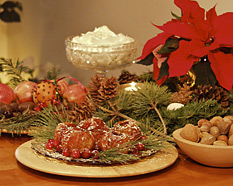 Illustration: Anton's hand-written cookbook.

Christmas Cookies
A winter holiday classic, these gingerbread men have always been one of my favorites.


---
TIPS:
Gingerbread men are best after aging at least 1 week in a cokie tin with an apple slice. They should be firm and chewy, not hard.


Do not add too much water to the sugar glaze for piping decoration.
A simple pattern of 2 eyes, a smile, shirt and pant cuffs and 3 buttons is plenty.
You can add red hots or raisins on the 3 buttons for color.

Too much frosting or decorating will take away from the delicious flavor of this wonderful gingerbread recipe.


You can make your own piping bag by cutting a tiny hole in the bottom corner of a plastic sandwich bag.


Let cookies cool before placing in cookie tin.
Separate cookie layers with wax paper in cookie tin.
Place a fresh apple wedge in the tin. This will soften the cookies and give them a unique flavor that you can't get any other way.


---
Related videos: