Snowballs
Betsy's Icebox Cookies

Prep Time:
15 minutes

Bake Time:
350° 10 min.
Yield:
24 cookies
---
Ingredients:

2 c brown sugar


1 c salted butter


2 eggs


3 c flour


1 tsp soda


1/2 tsp cream of tartar


chopped nuts (almonds, pecans or hazelnuts)



Process:

Mix all ingredients together well.


Form into cylinder and wrap in plastic wrap.
Refrgerate at least 20 min.


Cut into 1/4 thick slices.


Bake on greased cookie sheet at 350° for 8-10 min.

---

Remove from baking sheet and dip in powdered sugar bowl to coat completely while still warm.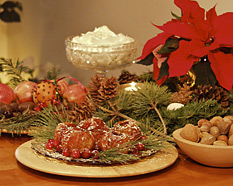 Illustration: Anton's hand-written cookbook.

Christmas Cookies
These are similar to traditional wedding cookies.


---
TIPS:
Dip cookies in powdered sugar while they are still warm.
Handle gently with dry hands to keep powdered sugar coating light and powdery.


Let cookies cool before placing in cookie tin.



Serve with hot spiced wine or cider.


---
Related videos: