Gretl's Fruit Cake

Prep Time:
20 minutes

Bake Time:
275° 3 1/2 hours.
Yield:
4 cakes
---
Ingredients:

1 lb. raisins


4 lb. mixed fruit


1/2 c ground almonds


2 packages chocolate bits


4 c sifted flour


1/2 tsp baking powder


1 lb. sugar


1 lb. brown sugar


9 eggs, separate yloks from whites


1 c cold strong coffee


1 tsp ground cinnamon


1 tsp ground cloves



Process:

Mix flour and dry ingredients with fruit and nuts.


Cream butter and sugar until fluffy.
Add egg yolks and beat until thick and creamy.


Beat egg whites in a large bowl until smooth peaks are formed.


Fold butter mixture and dry ingredients mixture into beaten egg whites.


Grease baking pans and line with wax paper.
Grease waxed paper after it is in the greased baking tins.


Pour dough into tins, about 3/4 full.


Place a baking pan of water on the oven rack beneath the rack with the cakes.


Bake on middle rack in oven at 275° 3 1/2 hours.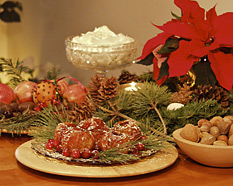 Illustration: Anton's hand-written cookbook.

Christmas Baking
This will not be the fruit cake that gets passed around.
When it is made right, fruit cake is absolutely delicious.
You'll want to keep this batch for yourself.


---
TIPS:
Place a pan of water under the cakes while baking to keep them from becoming hard and dry.


Bake slowly. Cakes will be firm but not hard when done.
Removefrom pans while still warm and place on cooling rack.
Wrap with plastic wrap when almost cool. This will soften the upper crust.


Serve with hot tea.
Sprinkle slices with a little rum or brandy and grace with a dollop of fresh whipping cream when serving.


---
Related videos: