Cinnamon Stars

Prep Time:
15 minutes

Bake Time:
325° 35 min.
Yield:
24 cookies
---
Ingredients:

3 egg whites


2 c powdered sugar


1 tsp vanilla


a few drops almond extract


1 tsp ground cinnamon


2 1/2 c freshly ground hazelnuts (filberts)



Process:

Beat egg whites until they form distinct smooth peaks,
adding powdered sugar while beating.


Save out 2 heaping Tablespoons of this mixture (for the topping)


Fold in the rest of the ingredients.


very gently "knead" the dough on a board dusted with finely ground nuts instead of flour.
(Grind some extra nuts for this.)


Gently roll out dough into 1/4" sheet.


Use star-shapped cookie cutter to cut out stars.
Dip cutter in powdered sugar (not flour) to kepe dough from sticking to cutter.


Carefully brush the cookie tops with the set-aside egg white mixture.


Place on greased wax paper on greased baking sheet.


Bake at 325° for 35 min.


Cookies will be soft but not doughey when they come out of the oven.
They will get hard when they cool.
They need to age and soften in cookie tin with apple before serving.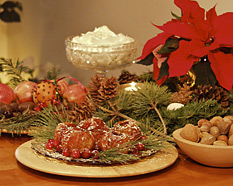 Illustration: Anton's hand-written cookbook.

Christmas Cookies
Incredible, extremely light and delicious cookies like no other cookie you've ever had!


---
TIPS:
Use ground almonds if you can't find hazelnuts.


The lightly browned meringue topping of these cookies is very light and fragile and requires delicate handling. Do not crush.


Let cookies cool before placing in cookie tin.
Separate cookie layers with wax paper in cookie tin.
Place a fresh apple wedge in the tin. This will soften the cookies and give them a unique flavor that you can't get any other way.


Serve with hot spiced wine or cider.


---
Related videos: