Makronen
Macaroons

Prep Time:
15 minutes

Bake Time:
325° 20 min.
Yield:
24 cookies
---
Ingredients:

4 eggwhites


2 c sugar


2 c ground almonds (for dough)


A few sliced almonds (to decorate)


Raspberry jam


Oblaten



get Oblaten
(baking wafers)
Process:

Beat eggwhites until they form smooth peaks.
Gradually add sugar while beating.


Fold ground almonds into beaten eggwhites.


Form 1 inch balls.
Place on greased baking sheet 1" apart.


Make a small indentation in the top of each ball.
Fill with a drop of raspberry jam.
Top with a slice of almond.


Sprinkle with powdered sugar (before baking)


Bake at 325° 20 min.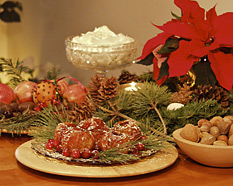 Illustration: Anton's hand-written cookbook.

Christmas Cookies
Delicate and light, these puffs of delight can be made with almonds or cocoanut flakes, or just about anything you fancy.


---
TIPS:
Oblaten are a thin white edible wafers used to make a base for cookies that are too delicate or sticky to put on a baking sheet themselves.


Substitute cocoanut flakes for ground almonds for a variation.


Let cookies cool before placing in cookie tin.
Separate cookie layers with wax paper in cookie tin.


---
Related videos: